Location
We're Within Minutes to Everything, Simply The Best Location For An RV Park In San Francisco!
If you're seeking convenience during your visit to The Golden City, Treasure Island Mobile Home & RV Park, just 10 miles south of downtown San Francisco, provides easy access to all the highlights of the city by car, Bart train or bus service from our front gate.
Here's what you can expect by car:
11 minutes to Mussel Rock Park at the Pacific Ocean coastline
30 minutes to the San Francisco South Bay
8 minutes to Pacific Coast Highway (Highway 1)
11 minutes to Highway 101
11 minutes to the San Francisco International Airport
Directly next door to Costco
Walking distance to Trader Joe's and other retail/service outlets
---
Explore San Francisco Our RV Park Bay Area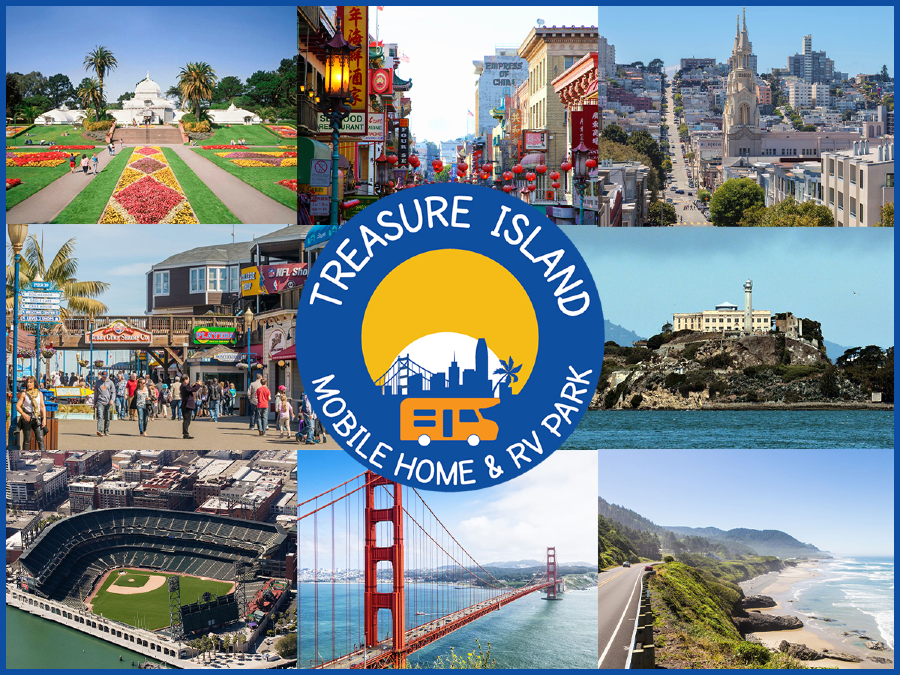 The San Francisco Bay Area offers an endless array of activities and attractions for those looking for an action-packed visit. Below are some of the top recreational destinations you can't afford to miss while staying at Treasure Island Mobile Home & RV Park:
Golden Gate Park
Located in the heart of San Francisco, Golden Gate Park is one of the world's largest urban parks, offering ample opportunity for biking, running, picnicking, and playing with your furry friends. With over 1,000 acres to explore and attractions like the California Academy of Sciences and de Young Museum, there's something for everyone in this sprawling green space.
Chinatown
One of the most popular neighborhoods in San Francisco, Chinatown offers a peek into Chinese and Chinese-American culture and history. The city's oldest and largest Chinatown is home to the Dragon Gate, Grant Avenue, and hundreds of shops, restaurants, and attractions — including historic temples and an authentic night market — that offer a truly unique experience.
North Beach
Sometimes called the "old Italian neighborhood," North Beach is a vibrant district of San Francisco with loads of history, culture, and nightlife. From its picturesque setting on the edge of Fisherman's Wharf to the many restaurants, bars, and shops, there's always something to do in this lively corner of the city.
Pier 39
Located on the San Francisco waterfront, Pier 39 is one of the best places to spot sea lions and offers tons of shops, restaurants, and entertainment options throughout its 19-acre complex. From local artists to Bay Area favorites like Ghirardelli Chocolate Company and Boudin Bakery – and live entertainment every day – there's something for everyone.
Alcatraz Federal Penitentiary Tours
A former military prison turned museum, Alcatraz is another must-see attraction during your stay at our RV Park Bay Area. A trip to the infamous former prison island offers an authentic glimpse into one of America's most notorious prisons. Visitors can stroll through the cells and other buildings while listening to audio recordings about the history of what was once considered America's most secure prison.
AT&T Park
Home to the San Francisco Giants baseball team, AT&T Park offers sports enthusiasts a unique ballpark experience with stunning views of the San Francisco Bay. Catch a game, enjoy a picnic in the outfield, or take a tour of this modern stadium for an afternoon or evening of fun.
Golden Gate Bridge
The 1.7 mile-long Golden Gate Bridge is the third-longest suspension bridge in the world and a signature attraction of the Bay Area. This internationally recognized landmark offers picture-perfect views of the Pacific Ocean and San Francisco skyline and is a sight to behold.
Pacific Coastline
A trip to San Francisco would not be complete without a visit to the Pacific Coastline. With its rugged cliffs, sandy beaches, and rolling waves, the Pacific Coast is a beautiful and unique part of The Golden City that you won't want to miss.
---
Visit Our RV Park San Francisco For Next Level RV Camping
Whether you're looking for a place to stay while working in San Francisco, want to explore all that San Francisco has to offer, or need a quiet place to relax and enjoy the California sun, Treasure Island Mobile Home & RV Park is the perfect spot for your next RVing adventure.
We take pride in our fantastic location, personalized service, affordability, and a wide variety of amenities, including spacious full RV hook-up sites, laundry facilities, next-generation high-speed internet, a dog park, onsite management, and a dry storage area.
Our modern RV Park San Francisco park provides the perfect location for an adventure-filled RVing experience with your family or friends. And with San Francisco just minutes away, you can enjoy all the perks of The Golden City and the Bay Area without sacrificing safety and comfort.
Book your stay with Treasure Island Mobile Home & RV Park today and see for yourself why we're a leading RV Park Bay Area!