WELCOME TO SOUTH SAN FRANCISCO'S
TREASURE ISLAND RV PARK
Treasure Island Mobile Home & RV Park, located in South San Francisco, offers convenient access to all the highlights of the city by car, Bart train or bus service from our front gate. Our park also provides easy access to and from Pacific Coast Highway (Highway 1), Highway 101, Highway 280 and the San Francisco International Airport. We're directly next to Costco and walking distance to a variety of shopping and services. Approximately 10 miles south of downtown San Francisco, our cozy RV and mobile home residential community is the perfect retreat for short-term vacations or long-term stays!
July Kick-Off Event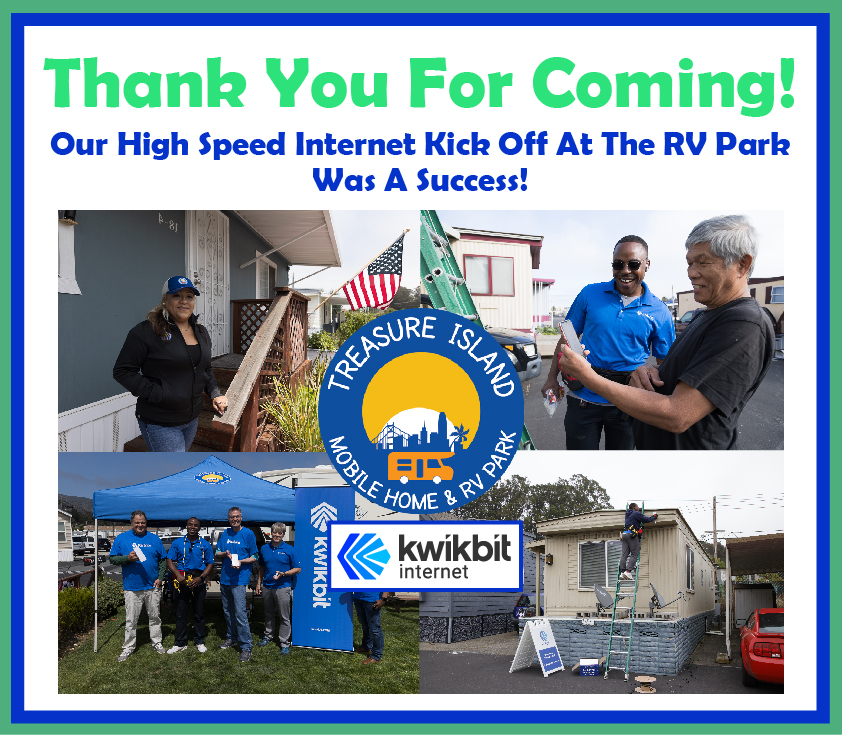 Common Questions
Do you have RV spaces available?
An Online Reservation Request is the easiest way to check availability. Based on our availability, you'll receive a reply via email within 24 to 48 hours.
Do you have RV storage
To request a storage space or check availability, please submit a Storage Request Form Pricing is based on the size of your RV or trailer.
What COVID-19 safety precautions are you taking?
Treasure Island Mobile Home & RV Park is open and taking on new residents during COVID-19 for long-term or short-term stays as we are a year round residential park. We have implemented safety measures such as contactless registration, keeping guests a safe distance apart by keeping every other RV space open, requiring face masks to be worn in all common areas & having hand sanitizer available throughout the park. Additionally, we have limited our capacity in our (2) laundry facilities to allow social distancing and we have clean, private showers and a bathroom area with individual stalls that are deep cleaned each night.
Are you open all year?
Yes. We are open year round. Our RV Park and Mobile Home community proudly hosts many residential and short-term stays.
How do I know if my RV meets your requirements?
Great question! RV requirements may vary based on the length and type of stays. We recommend visiting our Rules & Regulations Page or contacting the Park office at, info@treasureislandrvpark.com, for further assistance before making a reservation to ensure we're able to accommodate you.
How much does it cost to stay at your RV Park?
For more information about our pricing, please visit our Short-Term Rates page on our website for short-term stays and visit our Long-Term Rates page for extended stays at our RV Park.
Are pets allowed?
Yes! Well-behaved pets are welcomed to stay in the park at any time with permission of the park, which may withhold said permission at its sole discretion. Please read our Rules & Regulations Page regarding pet rules. Treasure Island Mobile Home & RV Park offers a dog park area including doggie bag stations which can be found throughout the RV park. Residents must sign and obey all pet rules which include cleaning up after your pet. Pets must be on a leash when out in the park and must never be left unattended. No more than two (2) pets per homesite. Pet items can only be washed in the designated pet washers.
To view all frequently asked questions visit our FAQ Page.